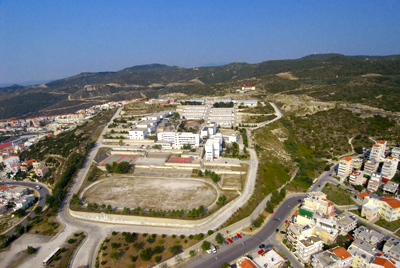 Eastern Macedonia and Thrace Institute of Technology (EMaTTech) was founded in 1976. In its current form, main Campus and Administration are based in the city of Kavala, Greece. It also spans in 2 more cities of northern Greece, Drama and Didymoteicho.
EMaTTech hosts 4 undergraduate Schools with their respective Departments, as well as 10 postgraduate Programmes.
School of Technological Engineering (Kavala)
Dpt of Electrical Engineering
Dpt of Petroleum, Natural Gas and Mechanical Engineering
Dpt of Computer Engineering
School of Business and Economics (Kavala)
Dpt of Business Administration
Dpt of Accountancy and Finance
School of Agricultural Technology (Drama)
Dpt of Forestry and Natural Environment Management
Dpt of Landscape Architecture
Dpt of Oenology and Beverage Technology
School of Health and Welfare (Didymoteicho)

The ISSOPVS Programme is organized by the aid of EMaTTech Erasmus+ Office, which holds an experience of over 25 years in the organization and administration of Mobility Courses and Programmes for foreign students and tutors.